SharePoint Integration
This function allows you to synchronize files from your Microsoft SharePoint storage.
Creating a credential
The first step you need to do is to create a Microsoft SharePoint credential. You can do this under Settings in the Cloud integration menu or from the File manager when you want to Connect shared folder.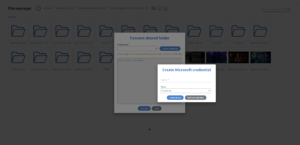 Once your credential is complete you can Connect shared folder in the File manager.
Please note that only images and videos under the upload size limit will be synchronized. The size limit is indicated on the appearing modal when you create the shared folder. (See picture above.)
When the folder is created, the system will start synchronizing your files into the folder. The synchronized folder will look like this: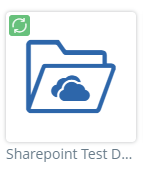 The green button on the top left corner of the folder will toggle the auto-synchronization on and off.
Synchronizing files from SharePoint with a validity date
Valid files are also synchronized. Providing files with validity requires the creation of two date columns in SharePoint, one that has the start and one that has the end date. Go to "Add column", select "Date" then a window will pop up for you to name it. To avoid confusion, name them like the following: "From" and "To" or "Start" and "End".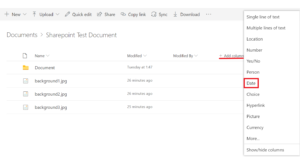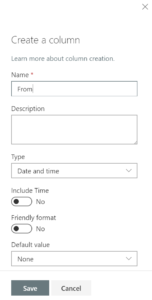 Select the file, go to "Open in details pane", scroll down and you will find the names of the created columns. When you click "Enter value here" you can write down the date or use the date picker.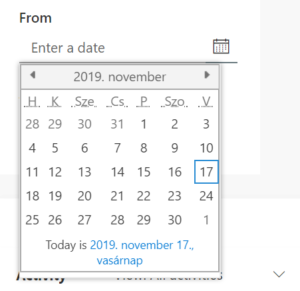 When you are done setting the validity of the desired files the file manager of SharePoint will look like this:

Now, you have to go to the Wallboard file manager and continue the integration. When you have created or used your credentials, the "Connect shared folder" window will appear, asking you to locate your documents. Here, if you want to synchronize your valid files you must add the correct names of the starting and ending columns created before. Otherwise, the given validity will be lost after the sync.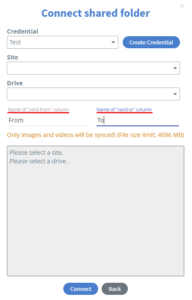 This video shows how to move your documents, files from SharePoint to our system.
[video width="1920" height="1080" mp4="https://VIDE.info/wp-content/uploads/2019/11/Sharepoint-and-Validity-Video.mp4"][/video]