Google Drive Integration
Google Drive Integration
This function allows you to synchronize files from your Google Drive storage.
The first step you need to do is to create a Google credential. You can do this under Settings in the Cloud integration menu, or in the File manager when you Connect shared folder.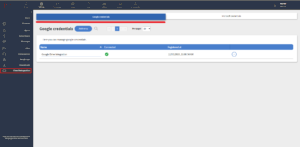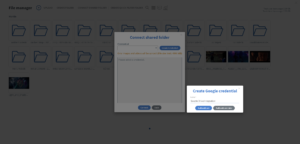 Once your credential is created you can Connect shared folder in the File manager.
Please note that only images and videos that are under the upload size limit will be synchronized. The size limit is indicated on the appearing modal when you create the shared folder. (See picture above.)
When the folder is created, the system will start synchronizing your files into the folder. The synchronized folder will look like this: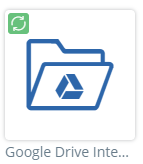 The green button on the top left corner of the folder will toggle the auto-synchronization on and off.
This video shows how to move your files, documents in Google Drive to our system.
[video width="1920" height="1080" mp4="https://VIDE.info/wp-content/uploads/2019/11/Google-Drive-Integration.mp4"][/video]