Content Synchronization
The Synchronize Content function allows you to display a content synchronously on multiple screens.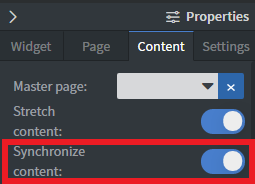 You can turn on Synchronize content in the Content menu under Properties.
Things that the Synchronize content affects in the content:
Switching pages
Video/Videos elements
Image Gallery / Carousel elements
Content/ Contents widget elements
Weather element
After the function is turned on you only need to assign the synchronized content to more than one screen.
Synchronization on Android:
Synchronization on Brightsign:
In addition to displayer synchronization, the Wallboard BrightSign client gets accurate time from the server it is connected to, but in a local group only one device does this, then it synchronizes this time to other BrightSign devices locally via https://docs.brightsign.biz/display/DOC/BSSyncManager
Videos use an additional setSyncParams method, described in BSSyncManager, which enables Genlock (frame-accurate VSync) synchronization.
Synchronization on Windows:
Windows uses NTP and fallbacks to the HTTP source if the former is not available.