Contact Expert v7.5
Contact Expert Administrator's Guide
Purpose
The purpose of this guide is to provide detailed information about the usage of Geomant Contact Expert application, covering the following areas:
An overview of CE functionalities
Procedures for CE configuration
Procedures for daily operations
Audience
This document provides a detailed User Guide for System Administrators responsible for the daily operation and maintenance of Geomant Contact Expert, a contact center solution for Microsoft Skype for Business. For the purposes of this guide we will refer to Contact Expert as 'CE' and System Administrators as 'administrator'.
Overview
To find all the terms and acronyms used in this guide – and an ever increasing number of more – please read these articles:
Functional Capabilities
Contact Expert is a fully-featured multi-media contact centre software solution that is native to the Microsoft Unified Communications Platform. Leveraging Microsoft's Skype for Business Server environment, the system provides a solution that is tightly integrated with the Microsoft UC platform and SfB desktop and presence.
Contact Expert is a software based unified contact centre that combines sophisticated and expandable skills based routing capabilities together with SfB collaborative tools to ensure maximum agent productivity, first call resolution and enhanced customer service. It is capable of handling multiple inbound queues and outbound campaigns, utilizing multi-media channels such as voice, email, chat.
Offering a complete customer services solution, Contact Expert has a firm grip of inbound, outbound and blended contact centre environments providing value added features, such as call recording and observing, quick access to real time and historical reports as well as sophisticated and deeply configurable Business Intelligence analytics using Microsoft Power Pivot. To top it off, the product also adds a fully programmable self-service IVR capability, as well. The solution is designed for Microsoft Server environments and provides simple integration to business applications, such as Dynamics or Salesforce, etc.
All telephony functions are delivered by Skype for Business. When agents log into Contact Expert,they are automatically logged in to SfB and all inbound and outbound calls are SfB voice calls. Integration with SfB allows to initiate, answer, place-on-hold, transfer and conference calls directly from the Contact Expert agent application provisioning the agent with a single unified working environment.
Technical Architecture
The following diagram shows the system architecture and the network diagram of the solution: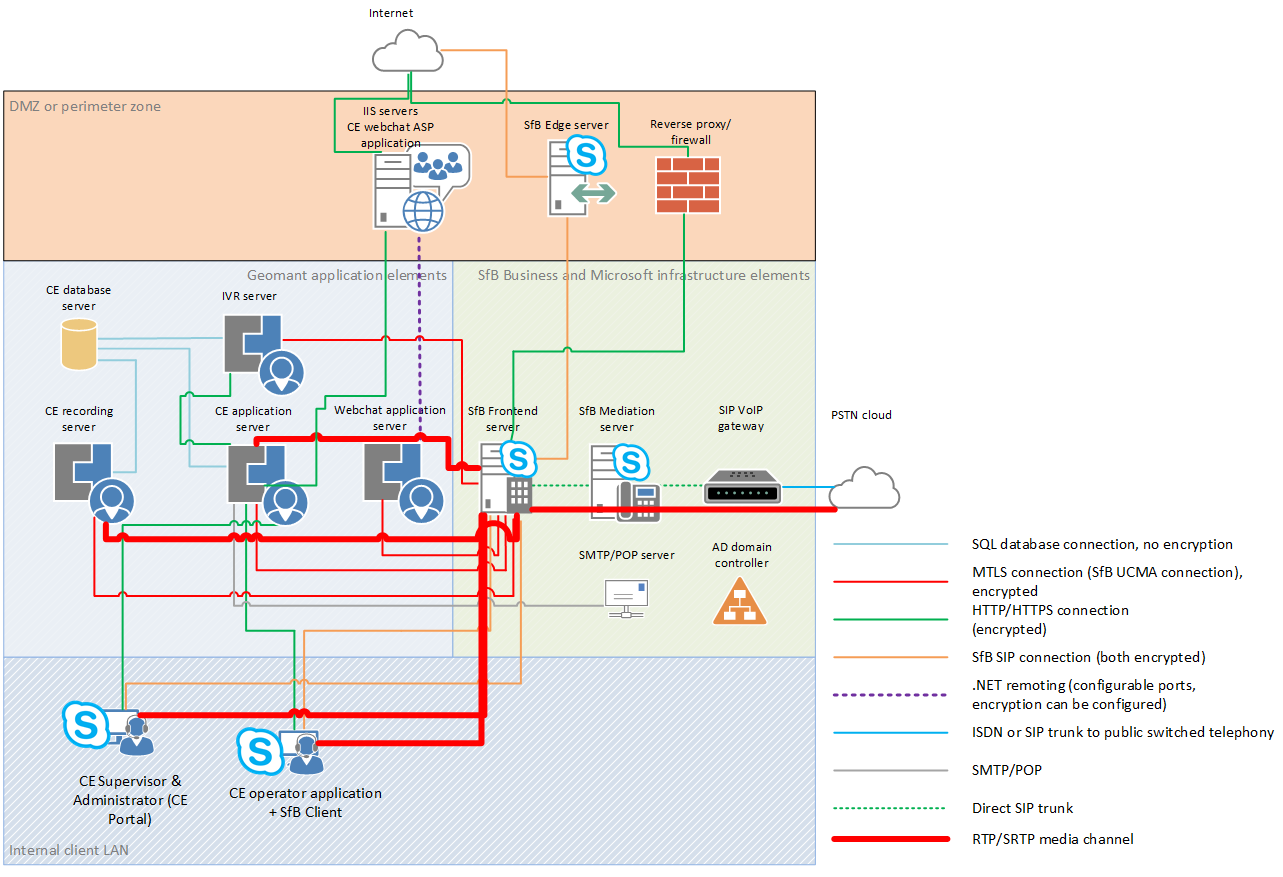 CE is installed on the following machines:
A server - or a set of servers configured into a single redundant solution - running Microsoft SQL Server hosting the CE databases. This is referred to as CE Database Host;
One or more CE Core Host server(s) running all the CE server roles (e.g. admin, core, reporting, recording);
Optionally – in case of high recording volumes and long retention times – the recording capability may be placed on separate application server(s). In this case this is (these are) referred to as CE Recorder Host;
One PC per customer service agent runs the CE operator application and the Microsoft Skype for Business client.
Navigating the Documentation
Use the navigation tree in the left sidebar to jump between chapters.